The three picture books described below have little in common beyond being very popular in our house. One is a diamond in the rough, another is a fantastic collection of poems, and the third is a quirky reference book. None are new, but one or two might be new to you: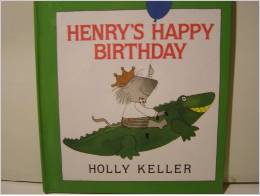 Henry's Happy Birthday (written and illustrated by Holly Keller in 1990) The soul of Dick and Jane lives on in a lot of forgettable books in beginning reader series out there. These stories are often so formulaic you wonder why anyone would pick one up when there are so many other great books to choose. We got this book as a hand-me-down and when I saw it was part of the Weekly Reader Children's Book Club series, I had low expectations.
Henry has a vision for his birthday, and things don't according to plan. Among other things, he's not allowed to wear his favorite t-shirt, his wrapped presents look lame, his cake isn't chocolate, and he loses in musical chairs. He's pretty disappointed, but things quickly take a turn for the better when his dad surprises him with a birthday crown and a bunch of balloons. He ends up having a great day. In our household we really value the ability to appreciate the good in situations and having faith that things will work out in the end. This story is terrific at teaching those lessons. The illustrations are definitely not high art, but they are cute and work well with the text.
Henry's Happy Birthday should be required reading the night before any birthdays or highly anticipated play dates.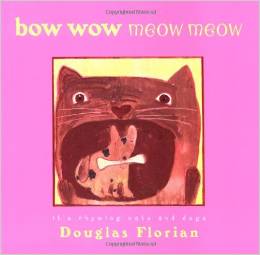 Bow wow Meow Meow (written and illustrated by Douglas Florian in 2003) I'm not sure how I've managed to miss out on Douglas Florian all these years, but I sure am happy I found him a few weeks ago at the library. This collection of short poems about dogs and cats is hilarious for all ages. R and B regularly quote "Who always yanks the tail of the manx?" and R memorized all of the amazing opener: "Dog Log". The illustrations are creative and fun too.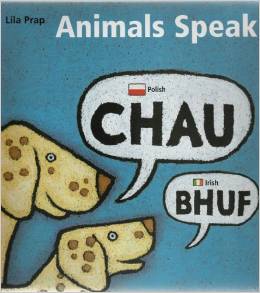 Animals Speak (written and illustrated by Lila Prap in 2006) Ever wonder what horses say in Hungarian or what frogs say in Farsi? Here are your answers. R studied this book for weeks and had lots of fun finding out how her multilingual friends would say neigh, buzz, or meow. The book's pictures and flags of the world make it much more approachable for kids than Derek Abbott's giant table.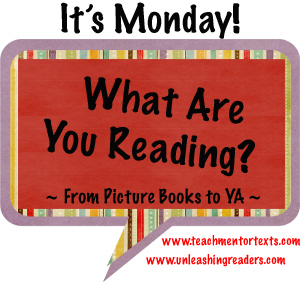 Originally hosted by Sheila at Book Journey, Jen over at Teach Mentor Texts along with Kellee and Ricki at Unleashing Readers host kidlit versions of It's Monday! What are You Reading? All three sites are great places to find new books for yourself and your kids.