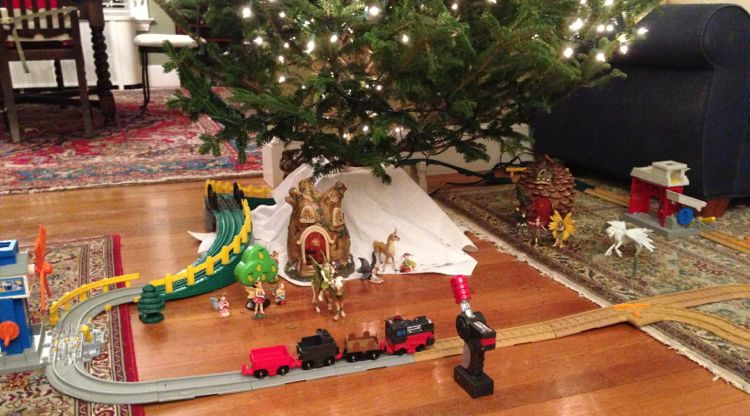 When I was a kid, a big part of the Christmas season was visiting my grandmother and immediately racing down to her basement to run the trains around the track. I loved the big styrofoam mountain, the rumbling of the engine on the metal tracks, and the feeling of industrial omnipotence when holding the controls in my hand.
Now that I have my own kids, I want them to have fun with trains during the holidays too. But my kids are little and a big Lionel rig isn't good match yet. Traditional train sets are expensive, delicate, and a ton of work to set up. And I don't feel good about having toddlers poking around in the miles of requisite electric wiring.
Last year my brother and sister-in-law sent us their old Fisher Price Geotrax and it's absolutely perfect for kids under six years old. The exact set we inherited is no longer for sale, but the Timbertown Railway is pretty close. Ours is made up of a whole bunch of snap-and-go plastic tracks and includes bridges, a windmill, and even a station that will load packages onto your train. The engine is battery-operated and makes a pleasant chug-chug noise, while the remote control is big, wireless, and easy for small hands to operate. It looks good, is super-easy to put together, and happily chugs around our tree. We have enough track to try out several configurations and expansion packs are just an Amazon one-click away.
Another great thing about the set is that it's seemingly indestructible. It's been stepped on, kicked, and disassembled (by kids and adults) numerous times and nothing's ever actually broken. You can't even forget to turn it off and run down the batteries because it stops automatically after ten minutes of non-interaction.
Bottom line: We all love it!