Consumption, analysis, and creation. A lot of my time can be assigned to one of these three categories, and while all three have their place, I find it very easy to slouch into consumption and shirk creation. I feel better about myself when I'm in balance, so I'm always looking for opportunities to make things. That's one reason the girls and I have been making up so many new games lately.
Our trips to the library have always been more than simply dropping off and picking up bags of books. We like to take our time and hang out too. These are our three favorite games to play while we're there:
1. The Rug Game: The main branch of the New Haven Free Public Library has a huge children's room and in the middle is a big circular rug with the alphabet and associated pictures printed around the edge. Since R was little we've played a game where I tell her to find something and she has to run to an appropriate letter. We started with the basics:
Run to the octopus!
Where is the dog?
Find the birthday cake!
We moved on to more tricky questions:
What keeps you dry in the rain? (Umbrella)
Who has 8 arms? (Octopus)
Find a red fruit! (Apple)
When other kids join in, the questions have to have at least two correct answers so everyone can find their own letter:
Who swims in the water? (Fish, octopus, turtle)
Find a fun toy! (yoyo, kite)
What has a shell? (Turtle, egg)
As the kids get older, the questions get downright tricky:
What rhymes with cry? (Pie)
Who has a princess for a daughter? (Queen)
Who is black and white? (Zebra)
2. Rainbow Magic: R is currently obsessed with this series of beginning chapter books. They are formulaic in the same way Dora and Boots are formulaic beginning readers and The Hardy Boys are formulaic tween boy schlock. The books come in sets of seven (e.g. The Pet Fairies) and each book involves two girls (Rachel and Kirsty) helping a particular fairy retrieve some magic item before Jack Frost and/or his goblins can get it. The books are quite harmless, and the thing is kids like formula–figuring it out is like solving a puzzle. B is not so into the stories yet, but she's been swept up in R's enthusiasm, and at the library she loves to gather up a big pile of the books, pore over the covers, and flip for pictures of goblins. We recently made up a game where she files her books by the first letter of the fairy's name on the alphabet rug. Fun and even a little educational!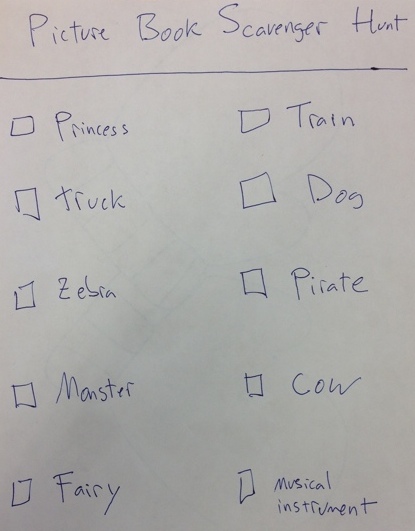 3. Picture Book Scavenger Hunt: This is a game I've been trying to get the girls excited about for years, and during our last library outing it finally took hold. I made a list of animals, characters and objects, and the girls had to find a picture of each in a book. We settled in between two big shelves and started digging. It was surprisingly difficult–I would have told you that a third of all picture books contain princesses, fairies, pirates, and dogs. It turns out dogs are easy to find, but everything else took a little hunting.
I've written a lot recently about games we've made up and had a good time playing. I hope some of you are inspired to try a few out. I hope even more that you are inspired to create your own games. That's the most fun of all.