One of the best things about having a second child is getting to do all your favorite little kid things again.1 Near the top of that list for me is re-reading our best picture books, and L, at 2.5 years old is just now appreciating the stories as well as the pictures. These five books have been particularly popular over the last few weeks: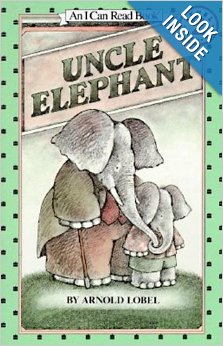 Uncle Elephant (written and illustrated by Arnold Lobel) Like all of Arnold Lobel's books, the illustrations are classic, the stories are clever, and the messages are deep. A boy loses his parents at the beginning and he bonds with his Uncle who takes care of him until his parents come back. Among other things, they walk in the garden, sing songs, and grant wishes to spiders. Uncle Elephant is the grandfather everyone wanted when they were growing up. We've also been enjoying Lobel's Frog and Toad stories.

Pup and Hound Catch a Thief (written by Susan Hood, illustrated by Linda Hendry) This criminally under-rated series of books is published by Kids Can Press where it gets lost in a slew of mediocre tales of poorly behaved cats (Mittens) and dogs (Sam). The rhymes and artwork are cute, and the stories have twists at the end that both L and I can appreciate.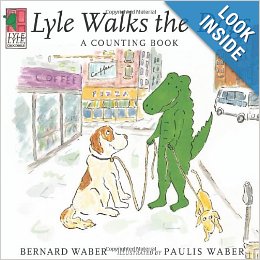 Lyle Walks the Dogs (written by Bernard Waber, illustrated by Paulis Waber) Not to be confused with Zack's Alligator Bridget, Lyle the Crocodile is as sweet as Bridget is sassy. In this counting book Lyle builds a business through competent hard work and positive word of mouth.

Curious George Rides a Bike (written and illustrated by H.A. Rey) My personal favorite George book when I was a kid, I'm happy to report that L loves it too, even if she does admonish George for not wearing a helmet.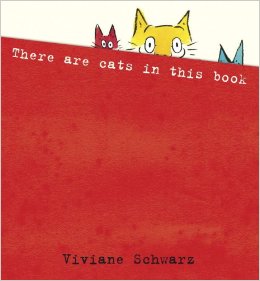 There Are Cats in This Book (written and illustrated by Viviane Schwarz) I'm cheating here since we just discovered this book a month ago at the library, but it's just so good and so perfect for the two year old age group that I had to include it. It follows in the interactive mode of Herve Tullet's Press Here asking the reader to do things (like toss a ball of yarn or look inside a box) and reacting to them. The only potential downside is that the pop-up features are not totally robust, but isn't that what Scotch tape is for? I just realized there's a well-reviewed sequel (There are no cats in this book) and can't wait to check that out too!
---
One of the worst things about a second child is having to do all your least favorite things again, but I'm a glass-half-full guy. ↩